Sale Page: TONNER, D.A.E., GENE, TRENT & OTHER MISC. FASHION DOLL ITEMS:
11/7/22 CLEARANCE SALE. NO PMs PLEASE.
Nonsmoking home. Please note only outfits described are included, regardless of what else you might see in the photos. DOLLS, SHOES, JEWELRY, DRESS FORMS ETC NOT INCLUDED.
I will answer emails in the order they are received. Email me to purchase at davisdayle@gmail.com, saying *I intend to purchase & I can PAYPAL NOW!* so I don't misunderstand & sell out from under you -- that way, no feelings get hurt.
For those who know me please consider paying via F&F. Shipping will be FREE in the continental U.S. for those who pay Friends and Family.
Otherwise, the cost of priority shipping will be added to the sale.ALL ITEMS over $50 WILL ALSO HAVE THE COST OF INSURANCE AND SIG. CONFIRM. ADDED TO THE SALE
Please include your zip code & ADDRESS when you email me so I can figure shipping costs. If you wish shipping via ordinary U.S. mail, I will consider it for some items.
NO COUNTER OFFERS. No time payments. No holds. Internationals welcome if we have had successful business dealings in the past.
Speedy payment please. I usually ship same day if mail carrier hasn't come yet. All forms of paypal okay EXCEPT NO e-checks.
Please NOTE: If you have emailed in the past stating intent to purchase & after I pkg up the items & send shipping/payment info you have somehow fallen off the face of the earth and do not respond to my attempts to contact you, don't email me in future to purchase something.
New York City Ballet "Nutcracker" Clara outfit only, for 12" Tonner Marley body. dress, pantaloons, socks, shoes, hair ribbon, wooden nutcracker $100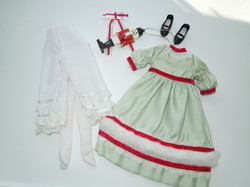 RARE. Madame Alexander #18 of LE 50. Outfit from 1920s 2002 Paris Fashion Doll Festival fits Alex & Gene $85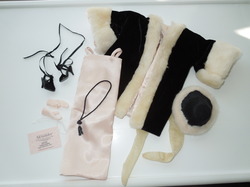 RARE. Madame Alexander #8 of LE 50. Outfit ONLY from Alex Paris Convention Doll, 1920s 2002 Paris Fashion Doll Festival FITS GENE $85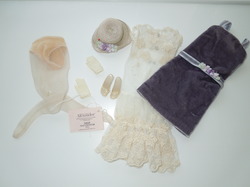 "Winter Wonderland" outfit only, for 12" Marley body. pink velveteen coat, Faux fur muff, headband with satin ribbon tie. boots and tights $100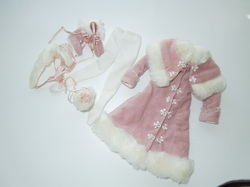 Tonner Jacqueline Frost complete outfit only. Lace on edges of Cummerbund trimmed away because of tattering. $75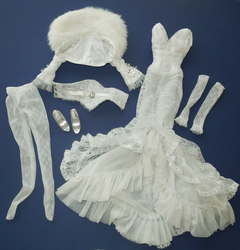 TEN Zippered plastic garment bags with hangers for fashion doll clothes such as Tonner, Jamieshow, etc. $65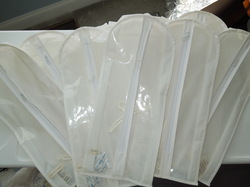 Madame Alexander Greta Garbo Grand Hotel complete navy outfit ONLY. Zippered satin dress with a velvet bow on bodice that matches the navy velvet shoes; amazing doublebreasted coat with "fur" trim and working buttonholes; gathered sleeves with poet cuffs and three button closure; matching hat, velvet handbag, gloves and pearl jewelry $50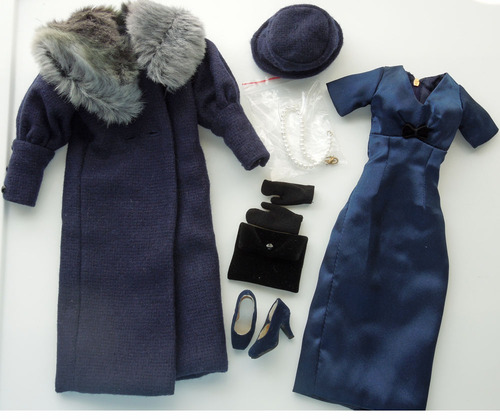 Madame Alexander Marlene Dietrich Shanghai Express complete burgundy outfit ONLY. Dress, feathery trim coat, black velvet shoes, black feather hat with veil, double strand layered necklace, silky pantlets, thigh high stockings, two-tone gloves $50