Edited 08/18/19 CLICK THUMBNAILS FOR LINK TO FULL SIZE PICTURE.
NO PMs PLEASE.
Nonsmoking home. Please note only items noted are included, regardless of what else you might see in the photos.\I will answer emails in the order they are received. Email me to purchase at davisdayle@gmail.com, saying *I intend to purchase & I can PAYPAL NOW!* so I don't misunderstand & sell out from under you -- that way, no feelings get hurt.
NO COUNTER OFFERS. No time payments. No holds. Internationals welcome if we have had successful business dealings in the past.
Speedy payment please. I usually ship same day if the PO is open. All forms of paypal okay EXCEPT NO e-checks.
The cost of shipping will be added to the sale. ALL ITEMS over $50 WILL ALSO HAVE THE COST OF INSURANCE AND SIG. CONFIRM. ADDED TO THE TOTAL. Please include your zip code & ADDRESS when you email me so I can figure shipping costs.
REGARDING ANTIQUE LACES AND FABRICS
SPECIAL NOTE: For garments constructed with vintage or antique fabrics or laces, please be aware that many of the vintage and antique lace fragments used to make these doll fashions are precious and irreplaceable -- some were finely hand-embroidered by skilled hands more than 125 years ago -- a skilled craft long gone and one never to be repeated in the years ahead. The antique pieces are a variety of fibers including silk, linen and cotton. As with anything over a century old, they bear a few aged characteristics and imperfections, including vintage darning and mending, and are inherently delicate. Handle with special care. The vintage pieces also can show their age and should also be handled with care. They may consist of silk, rayon, cotton, linen, nylon or other synthetic fibers. Also, the aged fibers may accept fabric dye unevenly.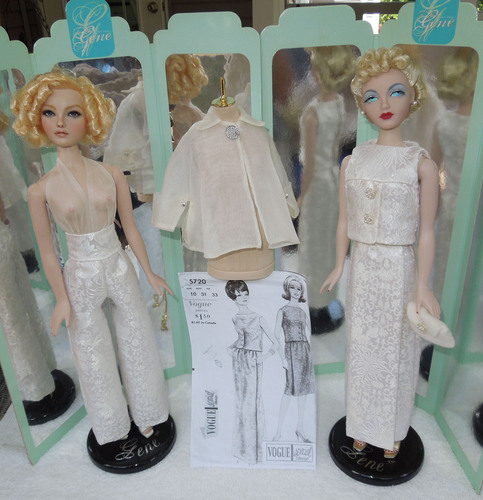 5 PC mini Honeymoon Trousseau includes a two-piece brocade silk cocktail gown and clutch bag with pearl/rhinestone buttons adapted from a 1950s Vogue 5720 Special Design pattern; See-thru halter top in silk organza and brocade waistband adapted from a Gary Fletcher pattern; palazzo pants in brocade silk adapted from a Joyce Roberts technique of unsewn crotch seams (hence the nomenclature "Honeymoon" Trousseau); two-toned white and ivory silk organza shortie jacket 1950s pattern design with gusset and cuffed sleeve treatment. SCROLL down for more pics $325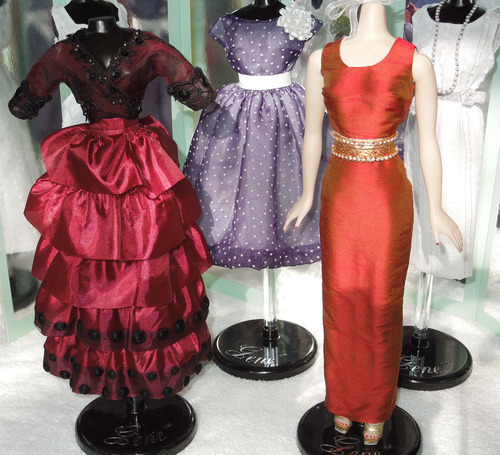 Gowns fitted to Gene. Burgundy ruffle 2 pc. with black antique lace wrap around blouse. $65; Taffeta silk cocktail sheath with rhinestone tapestry belt (disregard shadow at bottom of sheath, gown is one solid color) (Also, scroll down to see rhinestone belt dangles back of sheath) $85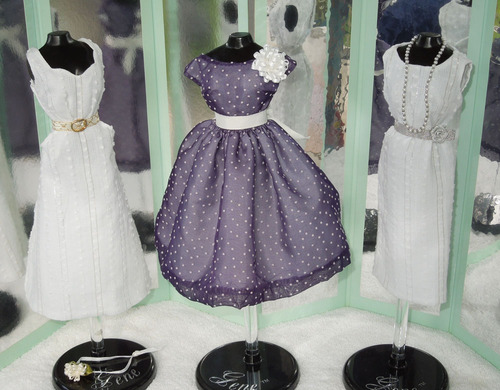 White cotton dresses shot with silver and gold threads. Dress with pouched pockets on left miniaturized from 1950s Printed Pattern #4773, Includes attached gold buckle belt and wrist corsage, $70 SOLD; Sheath dress on right with attached silver belt and custom necklace, $65 SOLD; Navy vintage dotted Swiss dress $ 65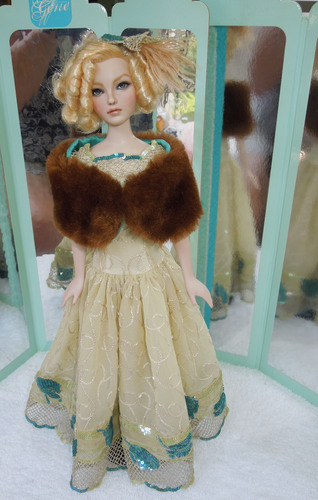 Beaded vintage silk crepe with satin thread embroidery, hand-edged with exquisite antique sari beaded and sequinned trim with metallic threads. Sized to Gene. Fascinator and faux fur wrap in medium brown with teal silk charmeuse lining included $225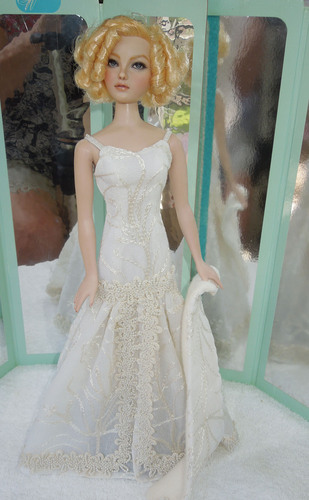 Vintage white silk crepe with satin thread embroidery, hand-edged with exquisite bridal pearl trim; includes white fur wrap lined with matching silk gown fabric. Sized to Gene. $225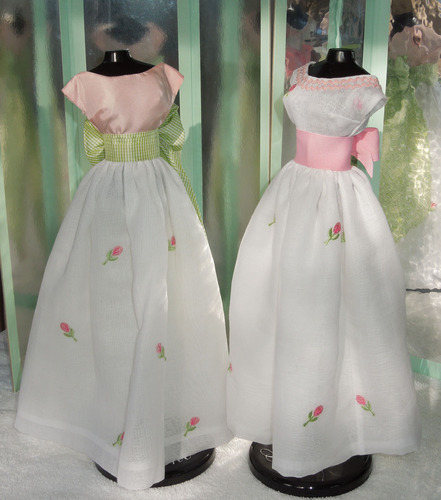 Left gown of soft white vintage lawn embroidered with delicate flower buds, pink taffeta bodice and green gingham silk bow and streamers. Fitted to Gene. $85 SOLD. Right Ballerina length white lawn gown with pink sash/bow $85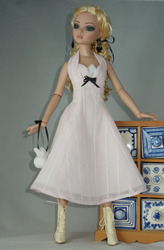 For Ello: Delicate pink cotton voile with white embroidered bodice insert, black bow, matching white & black handbag. $75
Gown in vintage lace and rick black silk chiffon with metallic gold stripes. Black and gold lace vest. Fitted to Gene. Also fits Antoinette $150 SOLD